Android users can finally stop using third-party lock apps to secure their personal messages because WhatsApp is finally rolling out the much-awaited Fingerprint lock feature in the app's latest stable version. The new feature, which has been available for public testing in the beta version of WhatsApp since August this year, will allow Android users to unlock their WhatsApp app with their registered fingerprint in the same way they unlock their phone's screen lock.
WhatsApp made the feature announcement quietly in the form of a blog post on its website. In the short post, the Facebook-owned messaging company isn't talking about updating the app to a specific build to get the feature, so that must mean the feature is activated remotely from WhatsApp servers. If you aren't seeing it appear in Settings just yet, you should, in the next few days. As long as you have the latest version of the popular messaging app installed and a fingerprint scanner on your phone, you should see the option appear soon enough.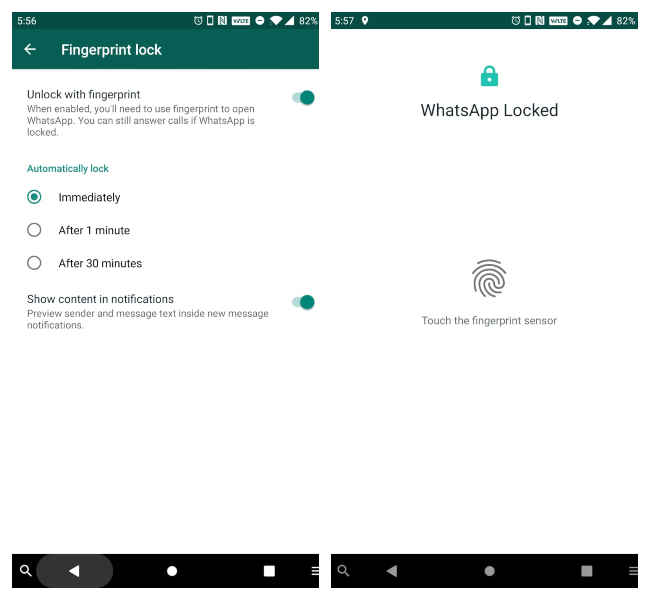 "To enable it [the new fingerprint unlock feature], tap Settings > Account > Privacy > Fingerprint lock. Turn on Unlock with fingerprint, and confirm your fingerprint," writes WhatsApp in its blog post. After that, every time you tap the WhatsApp icon you'll be prompted for your fingerprint, just like the screen lock on your phone. If you want to delay the automatic locking of the app, you can set a delay interval of either one or thirty minutes in the same Fingerprint lock section in WhatsApp Settings.
WhatsApp for iOS received support for Touch ID and Face ID on Apple devices early in the year but was plagued by a nasty bypass bug soon after. You can read more about that incident here. Sometime in late March, we began spotting beta builds of WhatsApp for Android crop up with support for Fingerprint lock. Roughly half a year later, the feature has made it to the stable version of the popular messaging app. In related news, WhatsApp is developing a multi-login feature that will allow users to use multiple accounts in the same app. You can read more about that here.